ESTATE PLANNING
Making your Will is an important step to ensure that your family is protected in the event of your death. However, there is actually a great deal more that you can do.
What is Estate Planning?
Certainty Estate Planners advises clients to prepare tasks that serve to manage an individual's asset base in the event of death.
Estate planning tasks
Making a Will 

Naming an Executor to oversee the terms of the Will 

Naming the beneficiaries, who will gain from the estate

Setting up funeral arrangements 

Naming suitable guardians to take care of minor children after an individual's death 

Looking at various strategies to limit Inheritance Taxes on the estate, such as making charitable donations or setting up trusts for beneficiaries
What are the reasons for Planning one's Estate? 
Preserving family wealth

Providing for the surviving spouse and children

Funding children or grandchildren's education

Leaving their legacy behind to a charitable cause
Estate Planning also gives you peace of mind when it comes to some tough, yet essential questions we all ask ourselves:
How much inheritance tax will my estate pay?

What if I need long term care? How will it be funded?

How will my family pay for my funeral?

What happens if I fall ill?

What happens if I am no longer in full mental capacity?
Download the Estate Planning Guide
Read the in-depth information about Estate Planning best practices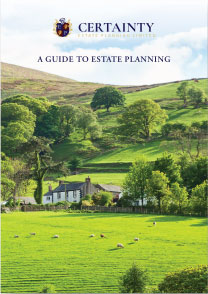 Benefits of Estate Planning
Estate planning has many benefits. You can protect your family financially in many ways, primarily through specialist protection policies, and reducing inheritance tax on your estate. 
It makes sense for you to consider these options at the same time as you are thinking about your Will and Lasting Powers of Attorney because they are interlinked and part of the Estate Planning process. 
Here are just some of the protections that you might like to think about:
Life assurance which pays a lump sum at your death

Life assurance which can mitigate your inheritance tax liability

Serious and critical illness policy which pays if you contract cancer or other serious illnesses

Funeral plans which cover the cost of your funeral

Care fee plans, which can be used to mitigate the cost of care, both in your existing or nursing home

Inheritance tax mitigation trust, which can be used to protect your home or pension
We will offer you our Professional Advice, our Expertise, whilst sharing our Wealth of Knowledge.
How Certainty Estate Planners can help
Our Will services are designed to give you peace of mind and make it possible for you to put your affairs in order, to ensure that both your family, loved ones and estate are in order following your death. We will ensure to support and guide you in every step you decide to take.
All our Estate Planning advisers are professional Will Writers, having completed a progressive training plan of accreditation and are registered members of the IPW (Institute of Professional Will Writers.)