Your family's future is in our hands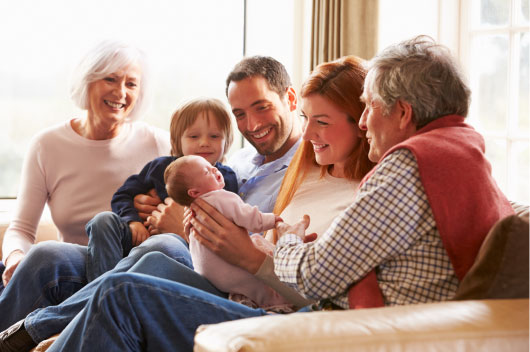 When Should You Review Your Will?
Many people think that making a Will is a once-in-a-lifetime activity, but it is important to get your Will reviewed every time your circumstances change, for example; when you move address, when there is a new family member, such as a birth of a baby, or you get married, divorced or remarried.
Benefits of a Will Review
You ensure that your wishes are met with regards to your estate and your assets. 

You Will is in-line with the up to date changes of Estate Planning legislation.

It allows you to explore other solutions to Inheritance Tax and welfare issues.
Things to Consider Before Your Free Will Review
Do you know where your Will is stored?
When did you last review it?
Have your personal circumstances changed?
Do you know that Inheritance Tax is charged at 40% of your net estate?
Did you know there are now new allowances that will help you reduce it?
When was the last time you renewed your Will?
How do you know your Will is not out of date?
Does your Will prevent your house/ home being sold to cover your care home fees?
FREE Unlocking My Estate e-book
A safe, password-protected e-document to record personal details, such as the banks you are with, social media memberships and funeral arrangements that will help your executors manage your affairs after you pass away.
Your executors can only access it on the production of a death certificate and proof of identity, meaning that the information you input is secure. Our clients keep this with their Wills in our secure storage facility.
Get this free e-book when you review your Will with us.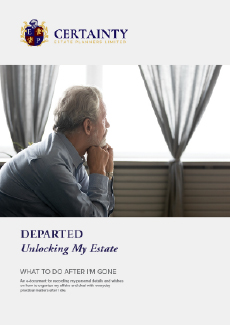 What our clients say about us
"RRichard was so helpful, patient and friendly and put me at ease. He always got back to me straight away if I needed to ask him any questions. I told him everything I wanted to do in my will and he did exactly as I told him. There were a few things I was unsure about and he explained everything to me. It was done via email/ over the phone and the process was really easy and quick. I can't recommend him enough and the price was unbeatable."
Alison Graham, Altrincham
"Certainty Estate Planners have shown themselves to be honest, reliable and trustworthy. Professional integrity is hugely important when companies are dealing with such sensitive family concerns and Certainty now has a proven track record in this line of work. Costs are reasonable and explained in full."
Colin Johnson, Coventry
"Richard was very professional, kind, understanding and very willing to explain anything we were unsure about. Before I spoke to him I was very worried to the point of panicking but he put me at ease and everything has gone smoothly. I would recommend him to anyone who is thinking of doing a Will."
Julia Ennis, Manchester